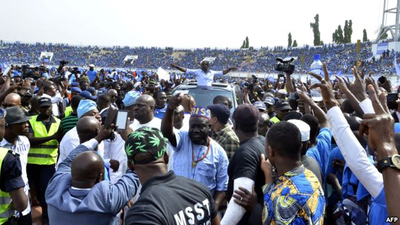 Record 33 Candidates Vying for Benin Presidency – Benin goes to the polls Sunday to choose a new president, and the ballot is long – a record 33 candidates. Incumbent Thomas Boni Yayi is stepping down after serving his maximum of two terms.
One front-runner among Benin's nearly three dozen presidential candidates is current prime minister Lionel Zinsou, who helms a coalition of three political parties.
It's a distinct advantage, says regional political analyst and director of the Wathi think tank Gilles Yabi.
He says Zinsou has the support of political parties that were considered to be in the opposition and he also has the support of the ruling party so that gives him a certain political weight.
But Yabi thinks it's still anyone's race.
He says it is a very open election and there are other candidates who could gather a large number of votes.
Zinsou has faced criticism over his ties to France. The investment banker was born and raised there and has only recently returned to Benin. He was named prime minister last June.
His top challengers include food industry magnate Sébastien Ajavon and cotton tycoon Patrice Talon. Talon broke with President Boni Yayi after he accused Talon of trying to poison him. Talon only returned to Benin last year following a presidential pardon.
Analysts say the candidates have, for the most part, been raising the same top campaign issues like corruption, jobs and agricultural reform.
If no candidate wins a clear majority Sunday, Benin will hold a run-off election two weeks later. Credit: Voice of America News http://www.voanews.com/content/record-33-candidates-vying-for-benin-presidency/3217961.html