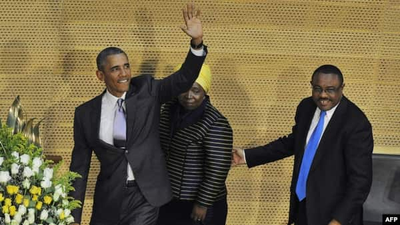 US President Barack Obama (L), alongside African Union Chairperson Nkosazana Dlamini Zuma (C), and Ethiopian Prime Minister Hailemariam Desalegn, arrives to speak about security and economic issues and US-Africa relations in Africa at the African Union
U.S. President Barack Obama capped his trip to Africa Tuesday with a speech hailing the continent's progress, but warning such progress can be sustained only through continued development and democracy for all.
Obama is now on his way back to Washington after making the first visit by a U.S. president to the African Union's headquarters in Ethiopia.
He told African leaders of his personal interest in the continent's success, saying, "I stand before you as a proud American. I also stand before you as the son of an African."
The president hailed the continent's gains, from a plummeting HIV/AIDS infection rate to millions of Africans being lifted out of poverty, while noting the U.S. role in such gains. Read more!