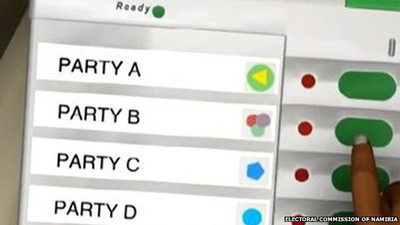 Namibia's Electronic Election.
Namibians go to the polls on 28 November to vote for a new president and parliament in the southern African country.
The electoral commission says nearly all eligible voters – about half of the population of 2.3 million people – have registered. Of these, almost half are under 35 years old. They will also be the first in Africa to cast their votes electronically.
On election day, the polling officer will verify voter cards on a device containing the national voters' roll. In the booth, the voter selects their party of choice by pressing a button on an electronic ballot unit. There are no paper ballots.
According to the electoral commission, this will speed up the counting process, allow faster verification of voters "and will immensely shorten the time voters have to spend in queues and inside the polling stations". There will be no spoilt or duplicate votes, the electoral commission said in a statement.
The commission believes results will be available 24 hours after voting. In the last election it took over a week for the results to be announced.
There will be no paper in the voting booth
Kenya also experimented with digital voting in 2013, using a biometric system for voter registration and electronic tallying for vote counting. But the system failed, and the country was forced to resort to counting by hand, further delaying the results.
Only two days before the elections, the High Court in Windhoek turned down a last-minute challenge by four opposition parties against the use of electronic voting machines They argued that the new voting system left room for rigging if there was no paper trail.
Culled from BBC News on Africa.