Liberia's ill economy fights back
A street vendor sells Liberian flags near an Ebola isolation ward on August 15, 2014 in the country's capital of Monrovia.
CNN) — The deadly Ebola virus which has ripped through three West African countries has had the biggest impact in Liberia. As of last week, the country has had over 7,000 cases of the disease and nearly 3,000 deaths, according to the World Health Organization..
Earlier this month, a World Bank report said that "nearl y half of the working population of Liberia is no longer working since the crisis began." The World Bank, which conducted two rounds of mobile-phone surveys, also said that over 30% of working households were self-employed before the crisis — but this is now down to just above 10%.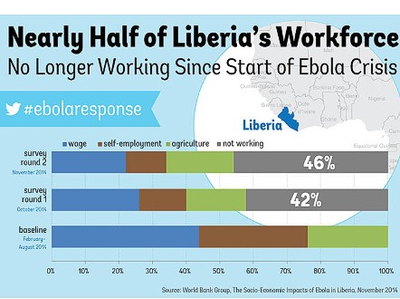 World Bank research shows that nearly half of Liberia's workforce is no longer working since the start of the Ebola crisis.
World Bank
Such a reduction in employment is being coupled with what the World Food Programme calls "abnormally high" rice pr ices in certain places due to quarantine measures.
As the economic impact of the virus deepens, CNN's African Start-Up reached out to workers, entrepreneurs and business people in Liberia to find out how they're dealing with the crisis. Read more: http://edition.cnn.com/2014/11/27/business/liberia-businesses-ebola