line
On Sunday evening, key opposition figures met Col Zida for talks.
Those present included Zephirin Diabre, leader of the Union for Progress and Change, former Foreign Minister Ablasse Ouedraogo, ex-Prime Minister Roch Marc Christian Kabore and Benewende Sankara, leader of the Union for Rebirth – Sankarist Party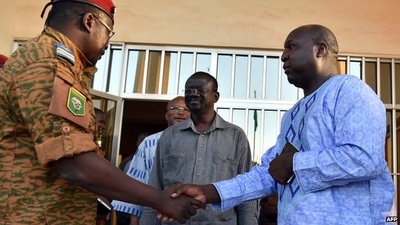 However, Ms Sereme reportedly left before the talks began and there were no details on what was discussed.
Mass protests first erupted last week when long-time leader Mr Compaore attempted to extend his 27-year rule.
Parts of the parliament building were set on fire, and the president fled to Ivory Coast.
Under Burkina Faso's constitution, the president of the Sena te should take over after the national president resigns and an election should take place between 60 and 90 days afterwards.
The African Union, the US and regional economic bloc Ecowas have all condemned the military takeover.
The UN's West Africa envoy Mohamed Ibn Chambas said the military must allow a civilian transfer of power, and sanctions were a possibility if this did not happen.