Africa debate: Is Nigeria ready to lead the continent? – Nigeria recently overtook South Africa to become Africa's biggest economy. But the country faces myriad problems – including a brutal Islamist-led insurgency, high levels of poverty, and widespread corruption. Can it now become the continent's leader? BBC Africa canvassed the views of both Nigerians and other Africans.
Simi Fajemirokun, Nigerian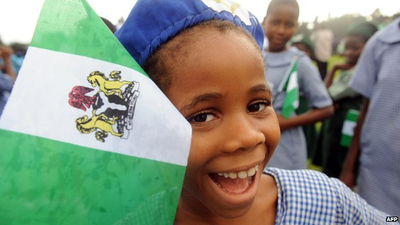 Nigeria is already leading Africa by the sheer size of its population, its emergence as the largest economy on the continent and its cultural prowess via its music and film industry across the globe. History provides further evidence of this in Nigeria's peacekeeping role in West Africa, which brought stability to the region, quelling the civil wars in Sierra Leone and Liberia.
So how well is Nigeria fulfilling its leadership role? At present, Nigeria's leaders lack a sense of awareness and purpose and this has led to confused policies and blunders such as the kidnapping of the Chibok girls, the passing of an anti-gay law and too many others to mention.

Nigeria in numbers
Population - 167m | $509.9bn (£307.6bn) GDP in 2013 | 68 mobile phones per 100 people | 52 years life expectancy | 57% adult literacy rate (Source: UN AFP)
This poor leadership also overshadows the amazing things happening behind the scenes, but as the old gives way to the new, a better Nigeria is being unveiled. From technology to fashion to music, Nigeria's next generation have revealed the open secret – that Nigeria was destined to lead Africa.
Nigeria's Afrobeats stars
Nigeria facts and figures
Inside Nigeria's secret gay club

Simon Allison, South African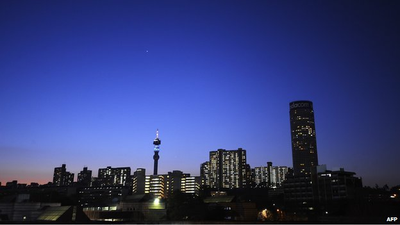 No, is the view from Johannesburg. Economically, Nigeria's newly inflated gross domestic product (GDP) means very little here. We know that these are just re-arranged numbers on some bureaucrat's spreadsheet, and that our economy is still more diversified, sustainable and ultimately attractive to investors. Our real concern is political. Nigeria and South Africa are locked in a fierce tussle over who will be the African superpower, and Nigeria has just robbed us of our most potent advantage.
Continue reading the main story
Tune in to the BBC World Service at 1200 GMT on Friday 27 June to listen to The Africa Debate: Is Nigeria ready to lead Africa? It will also be rebroadcast that day in Africa at 1900 GMT. To take part on Twitter – use the hashtag #BBCAfricaDebate – Facebook or Google+ South Africa's pre-eminence in continental affairs, and its membership of institutions such as the G20 and Brics, as well as a potential permanent seat on the UN Security Council, rests on its claim to be Africa's largest economy. That title now belongs to Nigeria, which is also Africa's most populous country. So, who should be represented on these bodies? South Africa's concerns are compounded by fears, expressed privately by government officials and diplomats, that chaotic, corruption-prone Nigeria is unfit to assume the mantle of continental leadership. Most South Africans would tend to agree: The perception persists of Nigerians as drug dealers and 419 scammers, making it hard for Nigeria to be taken seriously here.
The migrants doing business in SA townships
South Africa facts and figures

Nicole Amarteifio, Ghanaian
As soon as you expect one country to lead the entire continent, it is as if the other countries, numbering more than 50, are absolved of all responsibility. Whether a country has a population of 150 million people or three million people, each African country is responsible for the leadership of the continent – whether it is endowed with resources or not. It is like a relay race, where the team is only as strong as its weakest runner.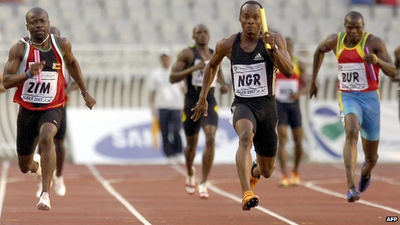 In the same way, the African continent is only as strong as its weakest country. So, we should all find the weakest country in Africa, turn to it and ask: Are you ready to lead?

Antony Ragui, Kenyan
When I launched the I Paid A Bribe website to document corruption in Kenya, my next country of focus was Nigeria. But bureaucracy and lack of goodwill was a barrier. Nigeria is infamous for weak governance, regulatory failure, weak leadership and an unstructured economy. This creates a gap for corruption to thrive.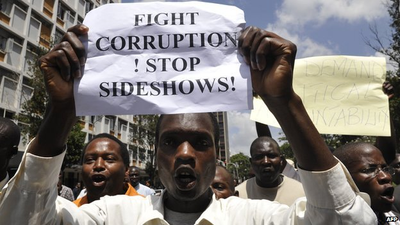 Nigeria is known for many things, some of them positive, like football, music and Nollywood movies. It also has a strong banking presence in Africa and boasts Africa's richest man, Aliko Dangote, a continent-wide investor. But it is also known for corruption and crime. Many Kenyans partly blame Nigerians for stricter immigration rules, particularly for travelling to the UK and South Africa. I recall being stopped by customs officers at Heathrow, the main airport in London.
The reason? I was seen talking to a Nigerian who had just been arrested for ferrying drugs. All of this is detrimental to Nigeria's image as a leader of the continent. To take a leadership position, Nigeria must fix its foundations.
Is Nigeria serious about tackling corruption?
Africa viewpoint: Nollywood and religion

Elnathan John, Nigerian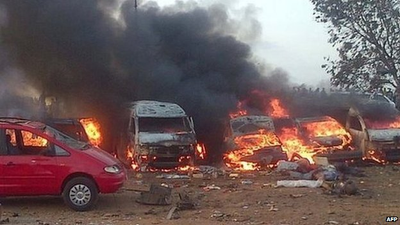 Two overriding questions arise: Is Africa going anywhere? Is Nigeria ready to lead itself out of its own chaos? I would like to hope that the answer to both questions is yes. But hope, unlike faith, is premised on reason and justification.
In spite of robust claims of a rising continent, countries still work at cross purposes, travel within the continent is prohibitively expensive, major powers antagonise each other, competing instead of cooperating, and poverty and conflict is on the increase.
While there is undeniable proof of economic growth which has resulted in Nigeria becoming the largest economy in Africa, much of this growth has had nothing to do with government planning, policy or promotion, save for new billionaires whose rapidly acquired wealth flows from government contracts, monopolies and unfair business practices.
This is possible only in a country where regulation is weak or openly controlled by cabals. When private business flourishes, it does so in spite of Nigeria's infrastructure – and political and social systems – being dysfunctional.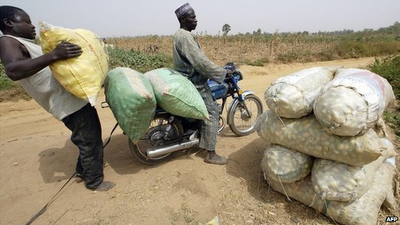 Most Nigerian still struggle to earn a basic living. Worse still, Nigeria is either callous or in denial about the crises which threaten its relative stability leading up to the 2015 elections – from the Boko Haram insurgency to clashes between farming communities and pastoralists. It seems all that a rational mind can have is faith.
Boko Haram crisis in deadliest phase
Who are Nigeria's Boko Haram Islamists?

Chibundu Onuzo, Nigerian
Much has been made of Nigeria's inclusion into business guru Jim Neill's magic acronyms. Hurrah! Nigeria made it into the Mint club – Mexico, Indonesia, Nigeria and Turkey – which Mr Neill identifies as the emerging powerhouses, rivalling Brics – Brazil, Russia, India and South Africa. Greatness is just round the bend. Already, we have started dressing the part.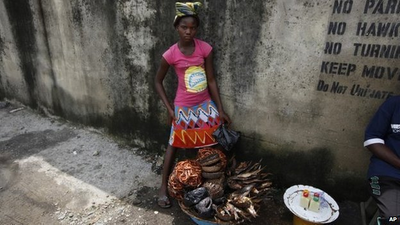 Last month, we hosted the World Economic Forum (WEF). This year, we rebased our GDP to show recent growth.
But to ensure that ours is not a case of style of over substance, we must address the basics – education, health, security, electricity and roads.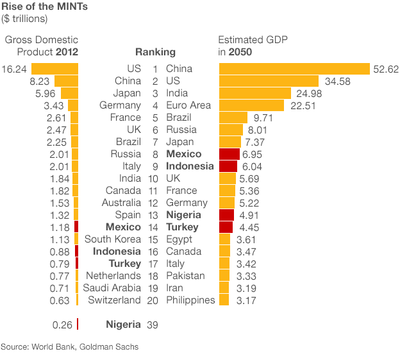 I have a relative who almost died from fake drugs. He swallowed pill after pill for a condition that steadily deteriorated until luckily he discovered his medicine was made of chalk.
That was before Dora Akunyili became the head of the Nigerian Agency for Food and Drug Control in 2008. Under her leadership, the counterfeit products that flooded the Nigerian market were flushed out in a matter of years.
Mrs Akunyili, who recently died, demonstrated how quickly transformation could take place in a sector when a leader is willing to step up to the plate. Nigeria has more soft power than any other country on the continent. Our culture is exported via film and music.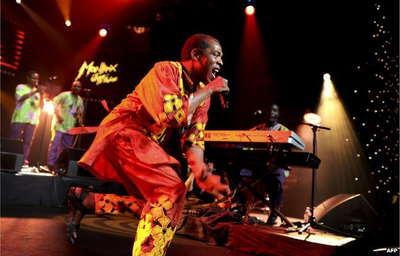 I was in South Africa earlier this year and I met many Joburgers hooked on Nollywood films and there was no bar or cafe I stepped into whose playlist did not have Nigerian music. Thus in some areas, we already lead the continent. Yet, on issues like healthcare and education, smaller countries like Rwanda and Mauritius continue to consistently outperform us. Perhaps we overestimate size. Kwame Nkrumah, Thomas Sankara and Amilcar Cabral were all men from relatively small countries whose leadership improved the lives of their citizens and gave them standing in Africa and the world.
Leadership can transform a country, no matter how narrow its borders or how shallow its natural resource deposits. One can only imagine the wonders that would take place if Nigeria's abundant wealth was paired with visionary leadership.
Why are the Mint countries special?

Ronak Gopaldas, South African
Investors are clamouring to get into Nigeria – and it's easy to see why. The country's compelling investment proposition, massive growth prospects, low public debt and a strong external balance sheet means that the country is well placed to become a regional leader and economic powerhouse.
That is over and above the associated benefits of higher oil prices. Overall prospects for the economy remain robust despite the state of Nigeria's politics – volatile, complex and often messy.
While high levels of poverty and unemployment will occasionally combine with the country's ethnic and religious cleavages to create a mixture that will spill over into outbreaks of violence, the country is unlikely to devolve into a failed state.
Nigeria's influence is derived from a large population of more than 150 million people, abundant natural resources, an engaged and entrepreneurial diaspora, on-going reforms in the power and banking sectors, and emerging opportunities in the agricultural, manufacturing and services sectors of a rapidly growing economy.
Despite the political logjams, and some expected and unexpected setbacks along the way, Nigeria will likely have more hits than misses in the long term.
How Nigeria became Africa's biggest economy

Nigeria in a word
What comes to mind when you think about Nigeria? Let us know using the hashtag #onewordnigeria. BBC Africa is also hosting a Google Hangout about Nigeria's image on Tuesday 24 June 2014 between 11:00 GMT and 12:00 GMT.
The Africa Debate – Is Nigeria ready to lead Africa?- will be broadcast on the BBC World Service at 12:00 GMT on Friday 27 June and again at 19:00 GMT in Africa – and will be available to listen to online or as a download .