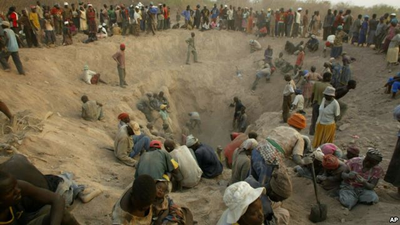 Government to Take Over All Diamond Operations, Zimbabwe's Mugabe Says – Zimbabwe's President Robert Mugabe said Thursday his government would take possession of all diamond operations because existing miners had robbed the country of its wealth.
Mugabe's comments came a week after the ministry of mines ordered all mining companies to halt work and leave the Marange fields, saying they had not renewed their licenses. At the time, it denied it was seizing the mines.
"The state will now own all the diamonds in the country," Mugabe said during a two-hour interview with state broadcaster ZBC TV.
"Companies that have been mining diamonds have robbed us of our wealth, that is why we have now said the state must have a monopoly," Mugabe said.
The largest diamond mine in Marange, Mbada Diamonds, on Monday sued the government at the High Court and was allowed to take control of its mining assets.
Chinese-run Anjin Investments also challenged the government ban at the same court Wednesday, according to a court application seen by Reuters on Thursday.
Mugabe said he had told Chinese President Xi Xinping during his visit to Zimbabwe last December that his government was not getting much from Chinese-owned mining firms.
Zimbabwe was the eighth-largest diamond producer in the world with 4.7 million carats in 2014, according to industry group Kimberly Process. Last year, the government received $23 million in royalties and other fees from diamond mines, down from $84 million in 2014. (Courtesy Voice of America News)