By Poppie Mphuthing, Editorial Lead, Global Leadership Fellow, World Economic Forum
How can we achieve the sustainable development goals? What urgent action is needed to save our environment, and our planet? The World Economic Forum Sustainable Development Summit 2018 was held this week in New York, in the midst of the UNGA.
Here are some of the biggest stories of the week:
1. We announced 100 Coalitions accelerating climate action and sustainable development
The World Economic Forum connected 100 world-leading coalitions to raise the ambition and turn commitments into action on climate change and sustainable development. The coalitions present included partnerships focused on closing the skills and gender gap, fighting disease, broadening the benefits of trade, and protecting the planet's dwindling biodiversity.
"The implementation of the Sustainable Development Goals is an absolute must to ensure a peaceful and prosperous future for humankind. Governments are challenged to fulfil their commitments, but business has a key role to play in providing the know-how and the technologies to reach the objective in more efficient and innovative ways," said Klaus Schwab, Founder and Executive Chairman of the World Economic Forum.
Click on the image below to learn more about how the individual coalitions are achieving the 17 SDGs: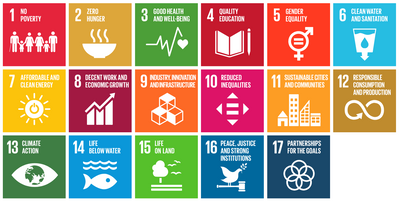 2. Vice-President Al Gore, New York City Mayor Bill de Blasio and California Governor Jerry Brown: Everyone needs to do their part to save the environment
In a plenary session about the sprint to 2020, Al Gore, Vice-President of the United States, 1993-2001 and Founder of the Climate Project encouraged each and every one of us to be part of the solution toward securing our shared environmental resources and solving the climate crisis.
New York City Mayor Bill De Blasio reiterated his decision to invest 2% of the city's pension portfolio in green investment by the year 2021.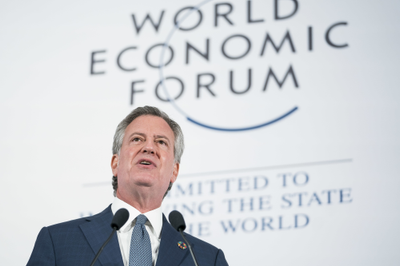 The Prime Minister of Denmark, Lars Lokke Rasmussen, also pressed the importance of everyone working together: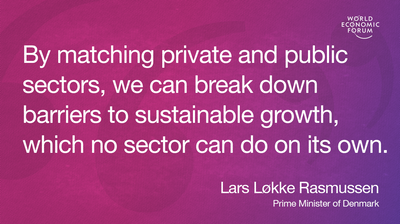 3. We announced the Social Entrepreneurs of the Year 2018
Girls' education, sexual violence, prison reform, financial inclusion and disaster relief are among the issues addressed by the 12 honourees recognized by the Schwab Foundation for Social Entrepreneurship as the 2018 Social Entrepreneurs of the Year.
Among them is the first Muslim woman from Kenya's Marsabit region to receive a law degree, which she is using to help create more resilient and peaceful communities in the drought- and conflict-prone region; a Dutch phone manufacturer who is changing the way smartphones are made; and a Brazilian man who created a prisoner rehabilitation programme that has successfully brought recidivism rates down from 85% to 30%.
"Social entrepreneurs leverage the power of market forces and business principles to solve social problems in ways that benefit the marginalized and the poor," says Hilde Schwab, chairperson and co-founder of the Schwab Foundation for Social Entrepreneurship. "Their work is often carried out in areas where government and the private sector are unable to achieve meaningful outcomes and involves considerable creativity coupled with pragmatism."
Courtesy: World Economic Forum