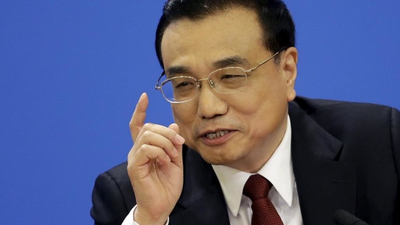 China's Premier expresses confidence in the economy amid difficulties – Chinese Premier Li Keqiang expressed confidence in the long-term prosperity of the Chinese economy amidst looming difficulties.
Addressing the press on Wednesday after the fourth session of the 12th National People's Congress, Li Keqiang said: "We have full confidence in the long-term prosperity of China's economy and such confidence is not without foundation, since we believe that China's economy will not suffer a hard landing as long as we stick to the policy of reform and opening-up, and since the Chinese market still has great potentials."
The Chinese government is planning to boost the economy by promoting reforms which remove development hurdles, focusing on creativity and improving competition.
"We are in the process of industrialization and urbanisation. There are rooms for industrial upgrading and the new-type urbanization is the biggest source of domestic demand. In the central and western parts of the country, there are still strong demands for effective investment. If we create twin engines for China's economy by fostering the new growth drivers and upgrading the traditional growth drivers together, we will be able to get through the challenges and rise to a highland full of promise," the Premier said.
He also pointed out that China still has a good reserve of policy instruments when uncertainty remains in the world economy.
Li Keqiang believes the economy will undergo slight and short-term fluctuations during its development process and will further employ innovative macro-control means to ensure a steady economic performance.
Credit: African News