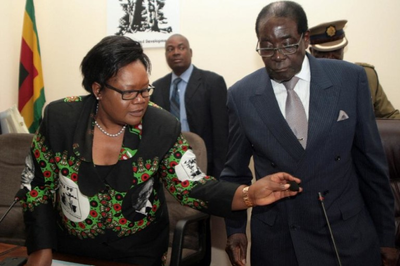 Mugabe's ex-deputy launches rival Zimbabwe party – Harare (AFP) – Zimbabwean former vice president Joice Mujuru launched a new political party Tuesday in a direct challenge to veteran President Robert Mugabe's all-powerful ZANU-PF, as speculation increases over his succession.
"Today is a historic day," said Mujuru as she officially unveiled her Zimbabwe People First party at a press conference in the capital, Harare.
Mugabe, who recently turned 92, has ruled since independence in 1980 during an era marked by vote-rigging, mass emigration, accusations of human rights abuses and economic decline.
He is expected to stand again for election in 2018, though jockeying over who will take over after him has intensified due to his advanced age and speculation about his health.
At the press conference, Mujuru refused to criticise Mugabe, saying he "has been my boss for a long time and I don't want to be dragged into discussing persons".
Analysts said Mujuru faces a huge challenge to become a contender for power.
"Having been with ZANU-PF for more than 30 years, she is still largely seen as part of the establishment," Rashweat Mukundu of the Zimbabwe Democracy Institute think-tank told AFP.
"My projection is that come 2018, ZANU-PF will have the same result as in the 2013 elections. They control the state machinery and have all the advantages while the opposition is fragmented."
A former ZANU-PF stalwart, Mujuru served in several cabinets under Mugabe and was seen for many years as his favoured choice of successor.
She was a guerrilla fighter during Zimbabwe's 1970s liberation war before rising to become vice president in 2004.
– Rival to Mugabe's wife? –
Mujuru, 60, was fired from Mugabe's government and ZANU-PF in 2014 after a campaign by the president's wife Grace denigrating her and accusing her of fomenting party division and plotting to topple Mugabe.
On Tuesday, Mujuru responded to questions about Grace's accusations by saying: "I am now swearing before you that I am neither a witch nor an assassin."
She signalled her intention to form a rival party last year by releasing a manifesto that opposed Mugabe's key policies including indigenisation laws that compel foreign firms to cede majority stakes to locals.
"The scourge of corruption needs to be totally uprooted," she said at the party launch.
"We urge all our war veterans, police, army and intelligence services to defend the constitution."
She was joined at the event by former ZANU-PF ministers Dzikamai Mavhaire and Didymus Mutasa among others.
"We do not want violence in this country. Mujuru is a person who builds. I do not engage in quarrelsome activities with people," she told about 100 cheering supporters after the launch as anti-riot police looked on.
ZANU-PF has been riven by factional fights over Mugabe's succession although party figures have sought to downplay any splits.
Emmerson Mnangagwa, who replaced Mujuru as vice president, is now viewed as the likely next president, with Grace Mugabe, 50, also a possible candidate.
The president turned 92 on February 21 and held a lavish birthday party last Saturday that was criticised as the country endures a severe drought and a moribund economy.
"We should remain united and use proper channels to solve our differences," he told the crowd, accusing Britain and the United States of funding "individuals both within and outside the party to cause factionalism".
Mujuru's husband Solomon Mujuru, Zimbabwe's first post-independence army general, died in a mysterious house fire in 2011. Read more ( Courtesy Yahoo News)