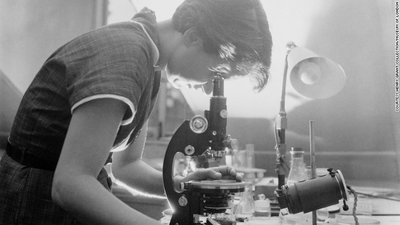 Scientist Rosalind Franklin at work in a laboratory in London.
Leading Women connects you to extraordinary women of our time, remarkable professionals who have made it to the top in all areas of business, the arts, sport, culture, science and more.
(CNN)All of these women left a mark on the world that would change people's thinking for decades — in some cases centuries — to come.
They wrote books that revolutionized people's view of society; made scientific discoveries that transformed medicine as we know it; and brought about laws that shook up the establishment.
In celebration of International Women's Day on March 8, Leading Women takes a look at just seven of the many females throughout history who changed the world for the betterment of all.
Harriet Beecher Stowe, author and anti-slavery campaigner
The American author's best-selling 1852 novel "Uncle Tom's Cabin" helped popularize the anti-slavery movement.
Legend has it Abraham Lincoln greeted Beecher Stowe at the White House by saying: "So you're the little woman who wrote the book that started this great war," in reference to the civil war.
Her novel followed the life of black slave Uncle Tom, and was the second best-selling book of the 19th century after the Bible.
Emmeline Pankhurst, led women's right to vote movement
British suffragette Emmeline Pankhurst founded the Women's Social and Political Union (WSPU), a group known for extreme forms of protest such as chaining themselves to railings and going on hunger strikes.
"We are here, not because we are law-breakers; we are here in our efforts to become law-makers," she said during a court trail in 1908..
Sadly Pankhurst never lived to see her dream become reality, dying three weeks before a law was passed giving women equal voting rights with men……..……..Read More