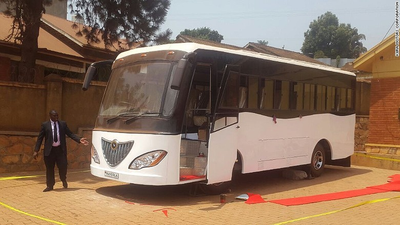 Uganda unveils Africa's first solar-powered bus – Ugandan Paul Isaac Musasizi, in his mid-thirties, is the CEO of technology company Kiira Motors Corporation and the brains behind Africa's first solar-powered electric bus which makes its debut on February 16.
In Europe and the U.S., there are a lot of places with solar farms, yet they don't even have the sunlight we do," said Musasizi. "I would be very excited to see solar pumps all over the place providing power to buses and other types of applications for people here."
The bus is just the beginning of a bigger ambition Musasizi has to kickstart Uganda's solar-powered automobile industry. His vision includes every gas station in Uganda having solar pumps to charge vehicles instead of fuel.The bus features two battery bulbs, with one connected to solar panels on the roof to provide firepower for the electric motor. The second bulb is available for charging."
This month, Morocco switched on what will be the world's largest concentrated solar power plant. It has the potential to power over one million homes by 2018. Musasizi says Uganda should follow suit by developing solar farms to provide power for vehicles and other everyday applications.
"This is the time for us to be prospecting how solar farms are used past just lighting," he adds. "We need to explore this for vehicles — because without proper transport technology, we cannot have a good economy."
Funding Uganda's future solar tech hub
The Kayoola solar bus prototype costs $140,000 to produce, but it would come with a significantly lower price tag of $45,000 if mass-produced.
Kiira Motors, fully-owned by the government, gets funding from a scheme known as the Presidential Initiative on Science and Technology. Musasizi said he hopes to attract investors interested in green energy for funding and future staff training.
"As an entrepreneur, I would like to break into the business community and get investment," he says. "But of course, for a project of this nature, the government needs to come in heavily so it can showcase that this is a viable investment." Read More (Credit: Courtesy CNN NEWS)