Aleppo: Russia-Turkey ceasefire deal offers hope of survival for resident – An agreement has been reached to evacuate civilians and opposition fighters from the besieged eastern districts of the city of Aleppo, a senior Turkish official and rebel officials have told the Guardian.
But as dawn broke in the city on Wednesday, reports from Syria said nobody had yet been able to leave.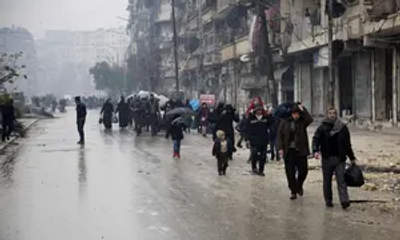 The deal offers some hope of survival to the people of east Aleppo, who the United Nations said on Tuesday had endured a brutal "meltdown of humanity" as forces loyal to the Syrian president, Bashar al-Assad, rampaged through newly reclaimed districts reportedly carrying out extrajudicial killings.
The agreement, which has effectively ended the battle for Aleppo after four years of fighting, capped weeks of immense suffering and violence that have left residents in total despair and increasingly angry at the international community for abandoning them to their fate.
A spokesman for rebel group Ahrar al-Sham said the evacuations could occur as early as Tuesday night, although reports from inside Aleppo overnight suggested civilians were not yet able to leave. A Syrian military official said the evacuations would begin at 5am on Wednesday. But by 6.30am, no evacuees had left the besieged city.
The reports of killings by the advancing regime forces, who are led by Iranian-backed militias, raised grave concerns over the fate of tens of thousands of civilians, doctors and activists who have remained in the shrinking rebel enclaves, and who faced death if they stayed there or being tortured and killed in regime-held areas if they fled over government lines.
Under the terms of the deal, negotiated between Turkish intelligence and the Russian military, a ceasefire went into effect at 6pm local time.
Soon afterwards, Russia's ambassador to the UN, Vitaly Churkin, said that fighting in the east of the city had ended. "According to the latest information that we received in the last hour, military actions in eastern Aleppo are over," he told reporters in New York.
The senior Turkish official said Ankara and Moscow would act as guarantors of the agreement, which would allow "civilians and moderate rebels with light weapons" to leave Aleppo for Idlib province.
"Once they reach Idlib, they will be free to relocate," the official added.
The United Nations said it had received reliable reports from multiple sources that pro-Assad forces, including the Iraqi Shia militia Harakat al-Nujaba, had carried out summary killings of at least 82 civilians, including 11 women and 13 children in four different neighbourhoods of east Aleppo that had fallen under government control.
"Civilians have paid a brutal price during this conflict, and we are filled with the deepest foreboding for those who remain in this last hellish corner of opposition-held eastern Aleppo," said Rupert Colville, the UN's human rights spokesman, before the ceasefire deal emerged.
A senior western diplomat said: "The last days have been a brutal assault on Aleppo, Syrians and the international system. Condemnable that Russia and Iran abetted this dictator in meting out such suffering. This is the path to yet more war. Not peace."
"The sky is crying for Aleppo with soft tears," said one teacher in the city, referring to the rainfall that had slowed down the relentless aerial bombardment of recent days, in a text message. "The sky is much kinder than human beings. For this we will stay there finally. There is no justice but in heaven."
The UN children's fund said earlier in the day that 100 children were reportedly trapped inside a building under attack in besieged Aleppo.
"According to alarming reports from a doctor in the city, many children, possibly more than 100, unaccompanied or separated from their families, are trapped in a building, under heavy attack in east Aleppo," Unicef said in a statement. "We urge all parties to the conflict to allow the safe and immediate evacuation of all children."
Rebel officials from Nour al-din al-Zenki and Ahrar al-Sham, two powerful opposition groups with a presence in the city, confirmed the deal to evacuate, but there was confusion over exactly where the opposition would have to go, with rebels saying they would be transported to the western Aleppo countryside.
Read more: The Guardian
Photo Credit: Syrians leave a rebel-held area of Aleppo to go to the government-held side. Photograph: Karam Al-Masri/AFP/Getty Images