Nigeria's Buhari names banker as finance minister, swears in cabinet – Nigeria's President Muhammadu Buhari appointed former investment banker Kemi Adeosun as finance minister on Wednesday, putting her in charge of Africa's largest economy amid its worst crisis in years, as he swore in members of his long-awaited cabinet.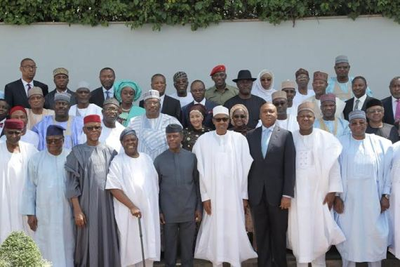 Buhari worried investors with the five-month wait to put his 36 ministers in place while the economy, reliant on oil exports for 70 percent of government revenues, was hammered by a fall in crude prices and an Islamist insurgency in the northeast.
The 72-year-old former military ruler, who took office on May 29, has said he took the time to vet the candidates as part of his election promise to battle corruption and mismanagement.
Adeosun, 48, is a UK-trained accountant who worked at Nigerian investment bank Chapel Hill Denham and was most recently the finance commissioner of southwestern Ogun state.
Buhari also appointed Emmanuel Ibe Kachikwu, head of state oil firm NNPC, as junior oil minister, although the president said he himself would retain overall control of the petroleum ministry.
Shortly before announcing the portfolios, Buhari outlined plans to address the slowdown in growth that has weakened the naira, slashed government revenues and driven up inflation.
"We are determined to diversify the economy in agriculture to enhance employment and export certain minerals as a major revenue earner," the president said.
"The primary aim is to achieve self-sufficiency in the production of such staples as rice and wheat and to become a major consumer and exporter of both items as well as solid minerals."
Hefty foreign currency restrictions imposed by central bank governor Godwin Emefiele, who filled a vacuum in the absence of a finance minister, have upset investors in recent months. The United States and European union raised concerns about the curbs on Wednesday.
But Adeosun has backed Emefiele's stance, saying while she was being vetted by the Senate that his approach created "breathing space" for the economy and that foreign reserves "would have been depleted" without the controls.
"We need to increase 'made in Nigeria' as far as possible to support the economy … and that will help us to support the exchange rate," she said during last month's screening process.
Razia Khan, head of Africa research for Standard Chartered bank, said the finance minister's seeming endorsement of current policy choices "will disappoint investors who had been hoping for more rapid liberalisation of Nigeria's FX market".
"Nigeria's economic recovery risks being delayed by the persistence of its fixed FX regime," she added.
Most cabinet members are political veterans but Buhari also appointed technocrats including Okechukwu Enelamah, who headed Nigeria's biggest private equity firm African Capital Alliance and was named minister for industry, trade and investment.
Former Lagos state governor Babatunde Fashola — a respected figure in Buhari's All Progressives Congress party — became minister for power, works and housing, while key players who backed the successful election bid were also rewarded.
Buhari's election campaign manager, former governor of oil-rich Rivers State governor Rotimi Amaechi, was appointed minister of transportation. Amaechi has been accused of corruption allegations that he has denied.
By Felix Onuah (Additional reporting by Chijioke Ohuocha; Writing by Alexis Akwagyiram; Editing by Catherine Evans)