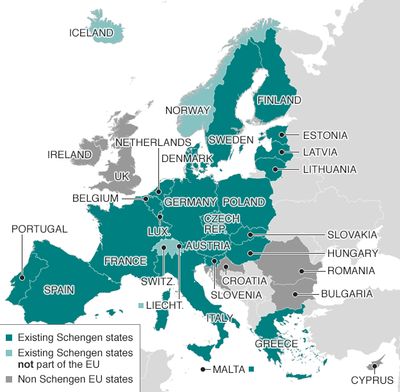 Schengen: Controversial EU free movement deal explained – The Schengen Agreement abolished the EU's internal borders, enabling passport-free movement across most of the bloc.
But the 13 November attacks by Islamic State (IS) jihadists in Paris, which killed 130 people, prompted an urgent rethink.
There was alarm that killers had so easily slipped into Paris from Belgium, and that some had entered the EU with crowds of migrants via Greece.
And in 2015 the influx of more than a million migrants – many of them Syrian refugees – greatly increased the pressure on Schengen.
One after another, EU states reimposed temporary border controls.
In December the European Commission proposed a major amendment to Schengen, expected to become law soon.
Most non-EU travellers have their details checked against police databases at the EU's external borders. The main change is that the rule will apply to EU citizens as well, who until now had been exempt.
Non-EU nationals who have a Schengen visa generally do not have ID checks once they are travelling inside the zone. But since the Paris atrocity those checks have become more common.
Schengen is a town in Luxembourg where the agreement was signed in 1985. It took effect in 1995, the first members being: Belgium, France, Germany, Luxembourg, the Netherlands, Portugal and Spain.
Now there are 26 Schengen countries – 22 EU members and four non-EU. Those four are: Iceland and Norway (since 2001), Switzerland (since 2008) and Liechtenstein (since 2011).
After the initial seven came Italy and Austria in 1997, Greece in 2000, and the Nordic countries in 2001.
Nine more EU countries joined in 2007, after the EU's eastward enlargement in 2004. They are: the Czech Republic, Estonia, Hungary, Lithuania, Latvia, Malta, Poland, Slovakia and Slovenia.
Only six of the 28 EU member states are outside the Schengen zone – Bulgaria, Croatia, Cyprus, Ireland, Romania and the UK.
Are other countries going to remove border checks too?
Andorra and San Marino are not part of Schengen, but they no longer have checks at their borders.
There is no date yet for Cyprus, which joined the EU in 2004, or for Bulgaria and Romania (joined in 2007) or Croatia (joined in 2013). Read more