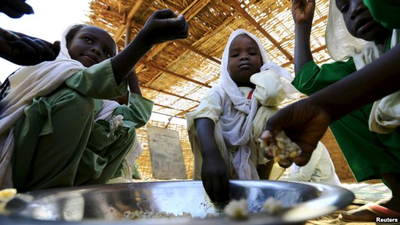 Sudan Urged to Let Humanitarian Workers Move Freely in Darfur – The U.N. and African Union chiefs strongly urged Sudan on Thursday to grant freedom of movement to peacekeepers and aid workers in Darfur, where tens of thousands of civilians are homeless because of fighting.
"There is no military solution to the conflict in Darfur, and [we] call on all parties to engage in earnest in negotiations for a cessation of hostilities leading to a peaceful settlement of the conflict," Ban Ki-moon and Nkosazana Dlamini-Zuma said in a joint statement.
The U.N. says a surge in fighting between Sudanese forces and rebels from the Sudan Liberation Army has driven 90,000 civilians from their homes in northern Darfur over the last six weeks.
But U.N. officials have been unable to confirm reports of another 50,000 refugees in central Darfur, because aid workers have not been given access to the region.
More than a decade of fighting in Darfur between the rebels and government forces, who have been aided by Arab militias, has killed more than 300,000 people and created 2.6 million refugees. (Credit: Voice of America News)