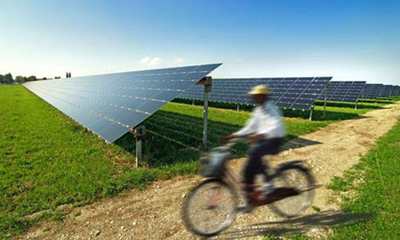 Africa Urged to 'Go Big' On Solar – Tumbling costs and technological advances mean solar energy could play a major role in an international project to expand electricity access in Sub-Saharan Africa, according to its organiser.
"We think there's a tremendous opportunity to go much bigger on solar," Andy Herscowitz, coordinator of Power Africa, told attendees at the initiative's second annual summit, held in the United States on 28-29 January.
According to the World Bank, about 600 million Africans have no access to electricity. Power Africa, launched in 2013 by US President Barack Obama, is a partnership of more than 120 governments, companies, NGOs and academic institutions that seeks to give 60 million homes and businesses access to electricity and add 30,000 megawatts (MW) of power supply by 2030.
Considering all energy projects, including those in which Power Africa is not involved, solar schemes are forecast to provide 18,000 to 22,000 MW of extra power in Sub-Saharan Africa by 2030, says a road map for Power Africa, released at the summit.
As for Power Africa itself, energy schemes providing 18,000 to 21,000 MW will result from helping projects that are already under way reach the finish line via financial, technical and other forms of assistance, the road map says.
Another 11,000 to 14,000 MW will come from new projects involving solar, geothermal, wind, hydroelectric and natural gas, as well as a few thousand more megawatts from making existing power supplies more efficient, it says.
To help overcome the fact that solar energy supply is intermittent, US companies at the event touted the potential of their products, such as giant batteries to store energy, or molten-salt power storage, in which salts absorb the sun's energy for later conversion to power.
Long-distance power lines could also carry excess supply from places such as Lake Victoria, where hydroelectric power is generated, to other areas that need power when the sun goes down, said Hamid Al Zayani, a representative of the company Midal Cables in Mozambique, told the summit.
The road map aims to add other renewable sources, such as wind and geothermal, to its mix of energy sources. "Generally diversity is a good thing" because it helps balance out the drawbacks of each energy type, said Steven Hunt, an energy advisor for the UK Department for International Development.
Read more: allAfrica – Photo credit: Inhabitant.com