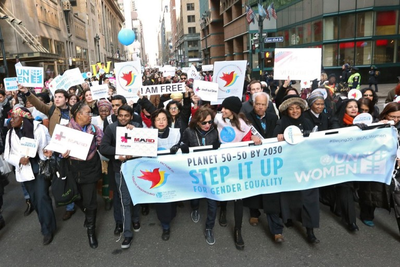 On International Women's Day, UN officials call to 'Step It Up' for gender equality – Senior United Nations officials from around the world are marking International Women's Day with calls to "Step It Up" with more resources and greater political action to achieve gender equality by 2030.
"I remain outraged by the denial of rights to women and girls – but I take heart from the people everywhere who act on the secure knowledge that women's empowerment leads to society's advancement," Secretary-General Ban Ki-moon said in his message for the Day.
"Let us devote solid funding, courageous advocacy and unbending political will to achieving gender equality around the world. There is no greater investment in our common future."
Listing successes during the past eight years within the UN linked to gender equality and women's empowerment, Mr. Ban said he has signed nearly 150 letters of appointment for women in positions for Assistant Secretary-General or Under-Secretary-General.
"We have shattered so many glass ceilings we created a carpet of shards," he said. "Now we are sweeping away the assumptions and bias of the past so women can advance across new frontiers."
The theme for this year's Day is "Planet 50-50 by 2030: Step It Up for Gender Equality." The year 2030 is the deadline for the new Sustainable Development Goals (SDGs), which include targets on achieving gender equality and empowerment of all women and girls, as well as ensuring inclusive and quality education for all and promoting lifelong learning.
The other half of the theme is a reference to UN Women's Step It Up initiative, which asks governments to make national commitments that will close the gender equality gap, by the 2030 deadline.
As part of this initiative, more than 90 Member States have pledged concrete actions "to crack some of the fundamental barriers to achievement of gender equality in their countries," said UN Women Executive Director Phumzile Mlambo-Ngcuka.
Given the "unprecedented" expressions of political will, Ms. Mlambo-Ngcuka called for the beginning of a countdown to substantive gender equality by 2030, supported by accountability and measurable actions.
"The participation of women at all levels and the strengthening of the women's movement has never been so critical, working together with boys and men, to empower nations, build stronger economies and healthier societies," she said.
Promoting gender equality is also a top priority guiding the work of the UN Educational, Scientific and Cultural Organization (UNESCO) in education, the sciences, culture, communication and information.
In her message, UNESCO Director-General Irina Bokova called the promotion of gender equality "a transformational force for more just, inclusive and sustainable development." Read more (Credit: UN News Center)