Nelson Mandela death: South Africa marks first anniversary
Events are being held across South Africa to mark one year since the death of Nelson Mandela, including a wreath-laying ceremony and a cricket match.
Anti-apartheid movement veterans joined Mr Mandela's widow, Graca Machel, at a remembrance service in Pretoria.
Sirens and vuvuzelas sounded across the country before a commemorative three minutes' silence was held.
There was a worldwide outpouring of grief when South Africa's first black president died a year ago aged 95.
"The body gave in but Madiba's spirit never, never changed, it was always the same until the end"
- Graca Machel Nelson Mandela's widow
Mr Mandela, also known by his clan name of Madiba, spent 27 years in prison for fighting white-minority rule in South Africa.
Legacy continues
One of his granddaughters, Ndileka Mandela, told the BBC on Friday that South Africans were still upholding Mandela's legacy and honouring his memory by living by his values of peace and reconciliation.
"That's just the spirit of who granddad was, that even after a year that he's gone peace still prevails, people still upholding his legacy and what he stood for, because he stood for peace and reconciliation."
Many South Africans said they were reflecting on whether the nation is following in his footsteps, says the BBC's Milton Nkosi in Johannesburg.
Veteran liberation struggle hero Ahmed Kathrada addressed the remembrance service at the Union Buildings in the capital, Pretoria, on Friday morning.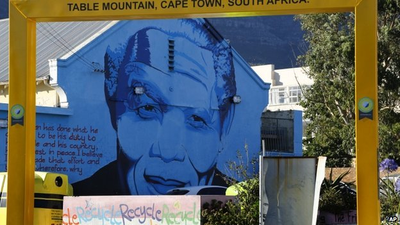 People gathered in Freedom Park at dawn to pray on the first anniversary of Mandela's death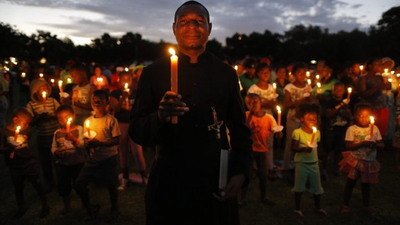 A candlelight service was held in the Soweto district of Johannesburg on Thursday evening
He described Mandela as a democrat with a touch of autocratic rule.
"The body gave in but Madiba's spirit never, never changed, it was always the same until the end," his widow, Graca Machel, said before laying a wreath at the base of the 9m (30 ft) tall bronze statue of her husband.
She said it remained the responsibility of every person in the world to ensure his legacy lived on.
Archbishop Desmond Tutu also paid tribute to the Nobel laureate, saying: "We thank God for him, and the example he gave us. He taught us about the worth of a human being, all human beings."
An interfaith service was held at Freedom Park in Pretoria earlier on Friday.
Commemorations are taking place across the country, including at Mandela's birthplace of Qunu where a marquee has been erected outside the Nelson Mandela Museum.
The anti-apartheid icon was buried in his ancestral village of Qunu in the Eastern Cape 10 days after he died.
Culled from BBC News 5 December 2014.