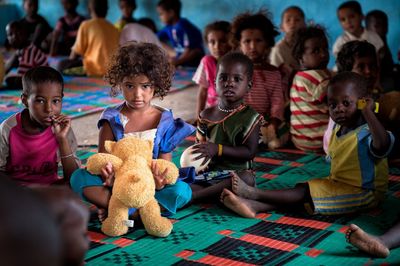 UN agencies warn of funding gaps as 450,000 Mauritanians struggle to put food on table – Two United Nations agencies today reiterated calls for more financial contributions to fund their work in Mauritania, where more than 450,000 people struggle to put food on their table.
Funding shortfalls are already threatening the ability of the World Food Programme (WFP) to provide essential assistance to many of the most vulnerable families. The agency suspended school-meal distributions in December, leaving over 150,000 school children from vulnerable families without the certainty of a daily meal.
"We fear that the anticipated funding gaps will force us to make further cuts in the assistance we provide, with a potentially devastating impact on the food security of the poorest families," WFP Country Director Janne Suvanto said in a press release.
He said that due to the current funding situation, no relief activities are taking place in the vulnerable areas of Brakna and Hodh El Gharbi, stressing that $21 million is needed to support WFP activities through August.
In June 2015, the prevalence of severe acute malnutrition in Mauritania was 14 per cent, the highest since 2012, making vulnerable populations more prone to nutritional risks.
Last year, 80 per cent of health centres in Mauritania supported by the United Nations Children's Fund (UNICEF) adopted intensive and outpatient nutritional recovery and education centre treatments. A total of 18,280 children suffering from severe acute malnutrition were admitted and treated in those facilities.
"The nutritional situation worsened in Mauritania during the 2015 hunger gap," said UNICEF Country Representative Souleymane Diabaté , warning that the number of children affected by malnutrition might increase even more this year, a situation requiring additional funding of $2 million to cope with.
"Our joint assistance is vital for vulnerable families," WFP's Suvanto stressed, calling for more funding.
Credit: UN News Centre